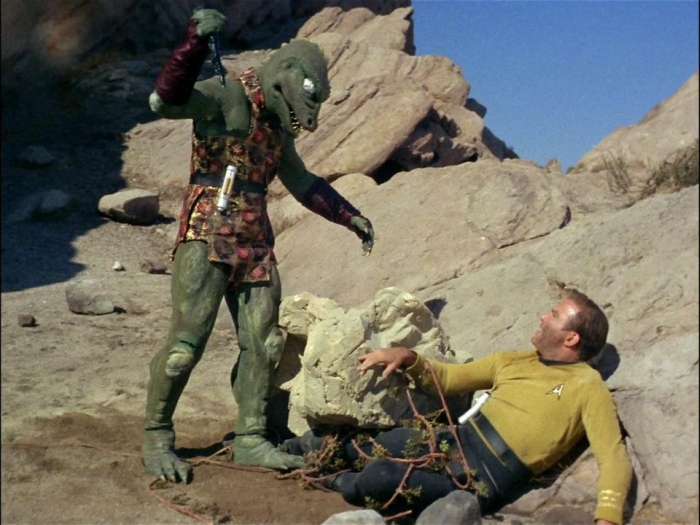 Sulfur, niter (saltpeter) and carbon, as coal and as crystalline diamond, save Captain Kirk's life in the 1967 TOS episode "Arena."
When a remote outpost of the Federation is attacked by an unknown enemy, the Enterprise pursues the fleeing vessel, inadvertently entering a sector of space controlled by the Metrons, a race with powerful psychic powers. Kirk, transported by the Metrons to a desolate planetoid, is forced into a battle against the captain of the Gorn ship – a reptile-like creature protected by an almost indestructible armored skin.
The planetoid displays a rich geologic diversity. Kirk mentions finding ruby corundum. He uses niter (saltpeter), sulfur, and coal he finds to make gunpowder for use in a primitive cannon, and diamonds as projectiles (here – judging from the crystal shape – likely quartz was used as film prop). After injuring the Gorn, Kirk spares his life to the surprise of the Metrons.
There are almost 5.000 known mineral species, yet the vast majority of rocks are formed from combinations of a few common minerals, like feldspars, quartz, amphiboles, micas, olivine, garnet, calcite, and pyroxenes. We still know little about other worlds. Over 300 minerals have been identified in meteorites, 130 minerals were discovered so far on Mars and 80 on Earth's Moon.
By convention, the names of terrestrial minerals (a crystalline combination of one or various elements) end with the suffix -ite, the denominations of elements with the suffix – ium, -um, -on, -gen, or -ine. This nomenclature is not always applied in Star Trek.
References:
De FOURESTIER, J. (2005): The Mineralogy of Star Trek. Axis, Vol.1(3): 1-24